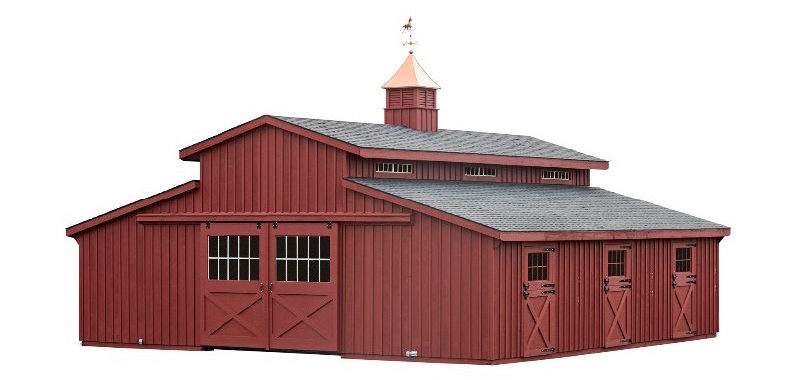 Featuring a crossover look between the Trailside and Monitor Barn styles, the Lancaster Barn adds some style to the single-story barn category – and to your backyard.
We Offer Nationwide Delivery! We deliver anywhere in the continental USA.
The Lancaster Barn starts at $29,000 and is available in sizes from 30×20 and larger.

Real Wood Siding
We include genuine Pine Board & Batten siding as a standard feature, so you can enjoy the classic barn look.

Spacious Center Aisle
Plenty of aisle space for protection from the weather and easy access for handling feed and bedding.

Cupola & Weather Vane
Add a cupola and weather vane for a classic look
Lancaster Barn Standard Features:
White Pine Board & Batten Siding (Paint Optional)
2 Sliding Doors per end of Center Aisle
OSB Roof Sheeting, 15 lbs. Felt & Lifetime Architectural Shingle Roof
1 Sliding Door & 1 Window per stall
Transom windows in elevated aisle
Wood Floor, 1 Service Door & 1 Window in Tack Room
4 Pitch roof over Stalls & 4 Pitch over Center Aisle
Oak Kickboard 4′ High & # 1 T&G SYP on Stall Fronts with Powder Coated Steel Grills
Available in sizes from 30×20 and up